Enjoy the tastes of Noboribetsu, Hokkaido!
Restaurant "Ribe"

Opening Hours 11:00 to 15:00

Features dishes with local Noboribetsu ingredients and special menus that highlight [[[Hokkaido]]]'s four seasons. We offer a wide variety of dishes to cater to as many guests as possible.
*No advance reservations accepted.
*Business hours may change, and the restaurant may be closed on certain days.

 Child seats available

 Wheelchair accessible

 Children's dishes available
Baked curry with cod and cheese

Served with rice and salad 990 yen (tax included)

A local dish featuring Pacific cod caught in local waters and baked with cheese and our own curry sauce.

Hokkaido pork leg cutlet Nixe style

Served with rice and soup 1,080 yen (tax included)

Leg of pork from nearby Shiraoi breaded, fried, and served with our special tomato sauce.

Cream pasta with Noboribetsu tarako and mentaiko

Served with salad and soup 1,060 yen (tax included)

Pasta loaded with local Noboribetsu tarako (pollock roe) and mentaiko (marinated pollock roe).
Restaurant "Lindetraet"

Opening Hours 10:30 to 16:00 *Closed on certain days.

Visit "Lindetraet" for light meals or tea time. Relax in a calm atmosphere after a soothing experience at the aquarium.

 Child seats available

 Wheelchair accessible

 Children's dishes available

Pick up popular local gifts as a memento of your visit!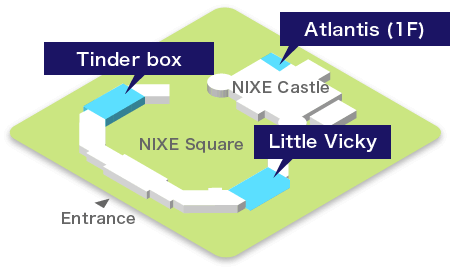 Atlantis (1F)

Shop "Little Vikky"

TAX FREE SHOP

Tinder box
PRODUCT INTRODUCTION
Spoons and forks

Key holder with king penguin feather

Hamayaki ricecrackers

King penguin egg
Super rare! Don't miss out!

The sea monkey gachapon and Nixe treasure gachapon contain rare items only available at NOBORIBETSU MARINEPARK NIXE, so check them out! Turn the gacha and try your luck!

An amusement park with amazing views–"Nixeland"
After a soothing experience in the aquariu, visit the amusement park for a heartwarming time!
A 30m tall Ferris wheel with specially-decorated gondolas and a merry-go-round are some of the attractions that await you. You can see all of NOBORIBETSU MARINEPARK NIXE and Volcano Bay from the top of the Ferris wheel.
OPERATING HOURS 11:00 to 16:00

OPERATING SEASON Apr.25, 2020 to Oct. 18, 2020

– Open during Saturdays, Sundays, and holidays during the season.
– Open every day May.2 to May 6 and Jul.23 to Aug.16
*The amusement park may close due to adverse weather.
*Guests must first purchase tickets to enter NOBORIBETSU MARINEPARK NIXE before entering Nixeland.
"Nixeland" ride prices
| | |
| --- | --- |
| Standard tickets | 100 yen each |

| | |
| --- | --- |
| Buy 10, get 1 free | 11 tickets for 1,000 yen |